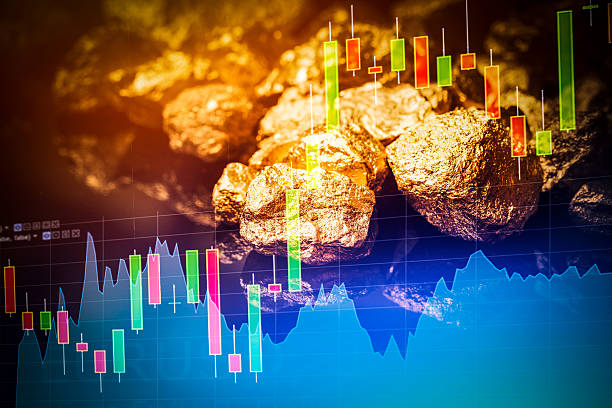 Gold prices climbed above the $2,000 mark in March as the Russia-Ukraine war unfolded. The budding geopolitical uncertainty caused investors to seek precious metals as a safe haven for their money. 
However, the gold market has since experienced a downturn – declining to around $1,800 an ounce as central banks hiked interest rates aggressively, making interest-bearing assets much more attractive than gold with their increasing returns. Thus, strengthening the value of the US dollar. 
What is the latest outlook for the gold market in the remainder of 2022? Is it still a good time to invest in gold given the opposing price drivers?
In this article, we'll look at the future of gold prices in the face of political uncertainty, inflation, and rate hikes.
The World Gold Council Sees Gold Playing Catch Up Amidst Persistent Inflation
Beginning the second half of the year, investors have been facing a challenging environment needing to navigate with increasing interest rates, high inflation, and geopolitical risks.
Gold prices will likely remain influenced by real rates, driven by the rate at which global central banks strengthen monetary policy to control inflation. The World Gold Council (WGC) predicts, "Rate hikes may create headwinds for gold, but many of these hawkish policy expectations are priced in. Concurrently, continued inflation and geopolitical risks will likely sustain demand for gold as a hedge. [The] underperformance of stocks and bonds in a potential stagflationary environment may also be positive for gold." 
Major report findings by the WGC include the following: 
Higher Rates Exceeded Inflation Risks in 2022
The gold market ended the first half of the year 0.6% higher – at $1,817 an ounce, based on the LBMA Gold Price PM benchmark as of 30 June. Gold prices initially spiked up as the war unfolded and investors sought after stable-liquid hedges as geopolitical uncertainty grew. Rates and inflation were the major drivers of gold's performance in the first half. But prices soon retraced as central banks tightened monetary policy and investors focused on higher bond yields. 
The WGC reported saying, although gold's year-to-date performance was flat, it was undoubtedly one of the best-performing assets during the first half. It did not only amass positive returns but also maintained below-average volatility.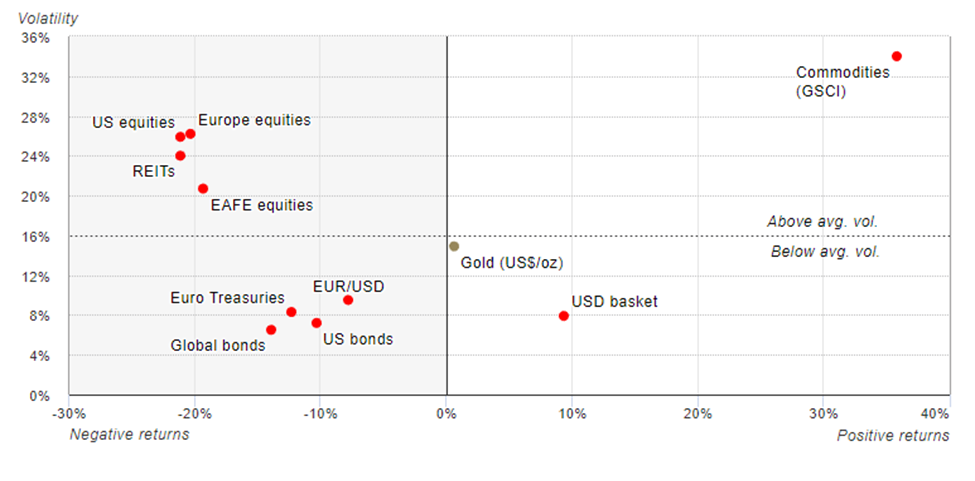 Source: World Gold Council
Looking Ahead: Investors Would Be Walking on a Tightrope
Investors will continue to face significant challenges as central banks pursue policy rate hikes this year. "Both investors and gold will continue walking the highwire between converging and complex dynamics," Juan Carlos Artigas, WGC's head of research, said in an interview with MarketWatch. 
The council's report further added that persevering uncertainty in monetary policy will likely spike market volatility. Policy rates were expected to be lifted by most central banks this year, but several have escalated their actions in response to persistent inflation. By far, the Fed has hiked its base rate by 1.5%, the Bank of England  (BoE) by 1.25%, and the Swiss National Bank has increased its monetary rate for the first time in 15 years. Although the European Central Bank (ECB) has yet to raise its rates, it has long indicated its intent to do so.
Gold Market's Performance Will Depend on Which Drivers Tip the Scale
The World Gold Council anticipates the gold market to face two major headwinds in the remainder of 2022 – higher nominal interest rates and a stronger dollar value. However, the council also projects the negative impacts of these two drivers may be offset by high, persistent inflation, market volatility resulting from shifts in monetary policy and geopolitics, and the demand for effective hedges that outweigh higher correlations between bonds and equities. On that note, the council expects gold to remain relevant in investors' portfolios, while market uncertainty remains high. 
What is the Future of the Gold Market?
Is now a good time to invest in gold? The macroeconomic and geopolitical outlook has influenced investors' calculations when it comes to gold's potential as a relevant investment in 2022.  
Analysts from the Australian bank, ANZ noted that restrictive monetary policies, rising yields, and strengthening dollar value are key drags for the gold market. Persistent inflation failed to uplift the market, and instead prompted a more hawkish stance by central banks. That said, the wide spread between the Fed base rate and CPI, suggests the central bank is scrambling to contain inflation. Fears about the global economic growth driven by persistent inflation and heightened geopolitical uncertainty should somewhat maintain gold prices, they reported.
Precious Metals experts at Heraeus, in an interview with global investment trading platform Capital.com, said emerging markets tend to perceive gold as a better long-term store of value in times of economic crisis than developed nations. Developing markets also experience greater currency volatility, and gold can provide a stable portfolio diversifier in times of instability. As such, gold buying banks, particularly in emerging markets, will likely be maintained amidst geopolitical and economic uncertainties. 
Gold was flat at $1,740 an ounce on Monday – the lowest drop reported in nine months. Analysts in Trading Economics reported, "Gold is expected to trade at 1722.49 USD/t oz. by the end of this quarter, according to Looking forward, we estimate it to trade at 1665.70 in 12 months."
When considering whether it's a good time to invest in gold, it's crucial to remember that gold prices can be extremely volatile, making accurate long-term predictions difficult. Hence, market experts can get their estimates wrong.
Make sure to do your research and keep updated with the latest market trends and expert opinion before making an investment decision. Invest wisely!